RivetRite, Bolted, and Boltless Shelving Units
---

If you're looking to optimize your storage space, enhance organization, and improve efficiency, you've come to the right place. Read on to discover how these innovative shelving systems can transform your workspace.
RivetRite Shelving Unmatched Strength and Adaptability RivetRite shelving is the pinnacle of durability and adaptability. Built with heavy-gauge steel posts and available in various sizes and configurations, RivetRite shelving can handle even the heaviest loads with ease. Its robust construction ensures stability and reliability, making it the perfect choice for storing bulky items or materials. What sets RivetRite apart is its boltless design, allowing for hassle-free assembly, reconfiguration, and adjustment. As your storage needs evolve, RivetRite adapts effortlessly, maximizing space utilization and offering endless possibilities.
---
Looking to find out more information on Shelving? Reach out to one of our Sales Professionals below or click HERE to request a quote!
---
Bolted Shelving The Classic Choice for Heavy-Duty Storage When it comes to heavy-duty storage, our bolted shelving units are an unbeatable solution. Engineered with precision and strength in mind, these units are designed to withstand rigorous demands in warehouses and industrial settings. With their bolted construction, they provide unparalleled stability and load-bearing capacity, ensuring your valuable items are securely stored. Bolted shelving units offer a solid foundation for your storage needs, delivering reliability and peace of mind.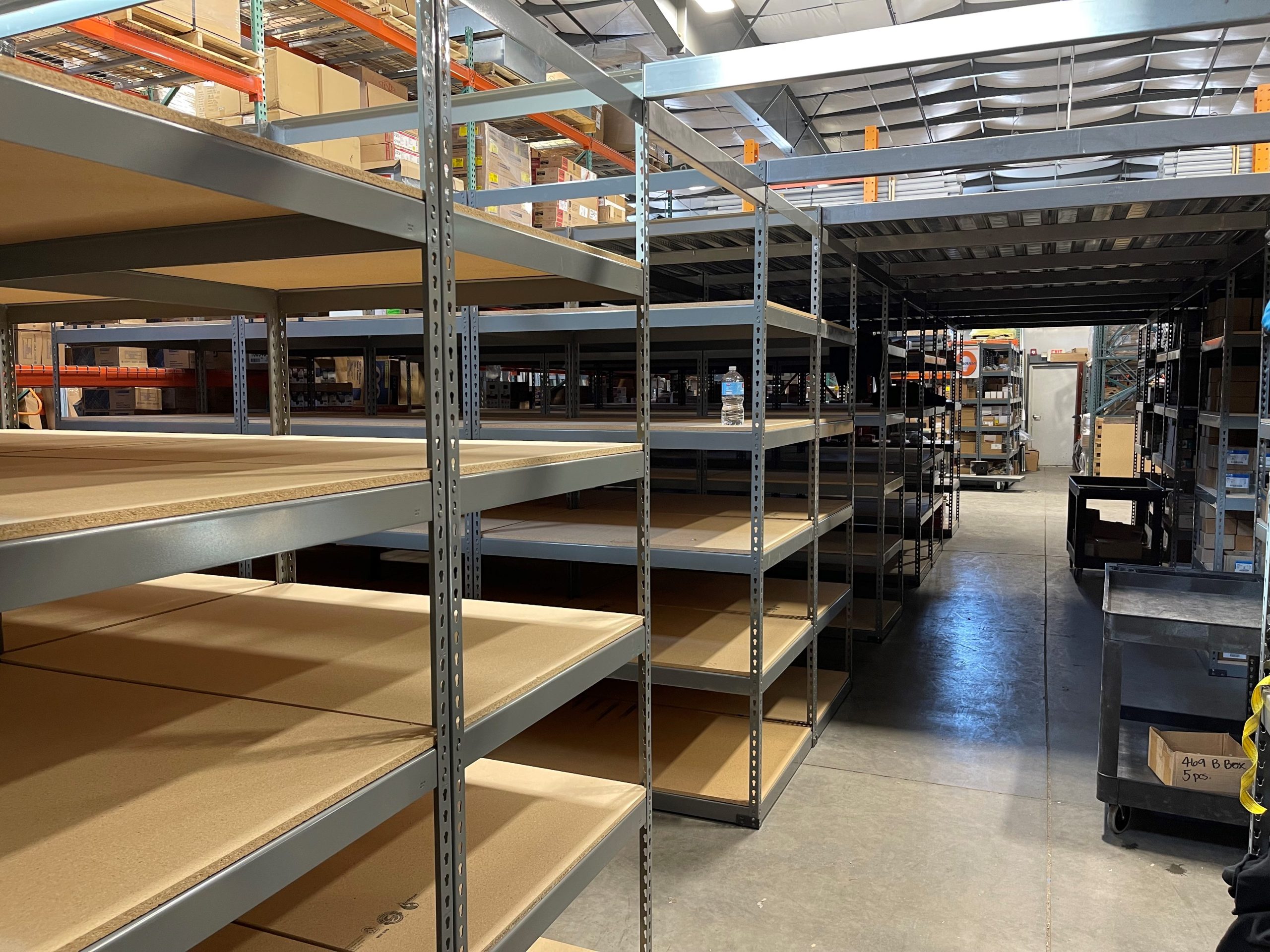 Boltless Shelving Quick Assembly, Optimal Convenience For those seeking effortless assembly without compromising strength, our boltless shelving units are the perfect fit. Designed with simplicity in mind, these units feature an ingenious design that eliminates the need for complex hardware or tools. Within minutes, you can have your shelving units ready for use. Don't let the ease of assembly fool you – boltless shelving units offer exceptional stability and versatility. Experience the convenience of organization without sacrificing durability.
Benefits of Our Shelving Units:
---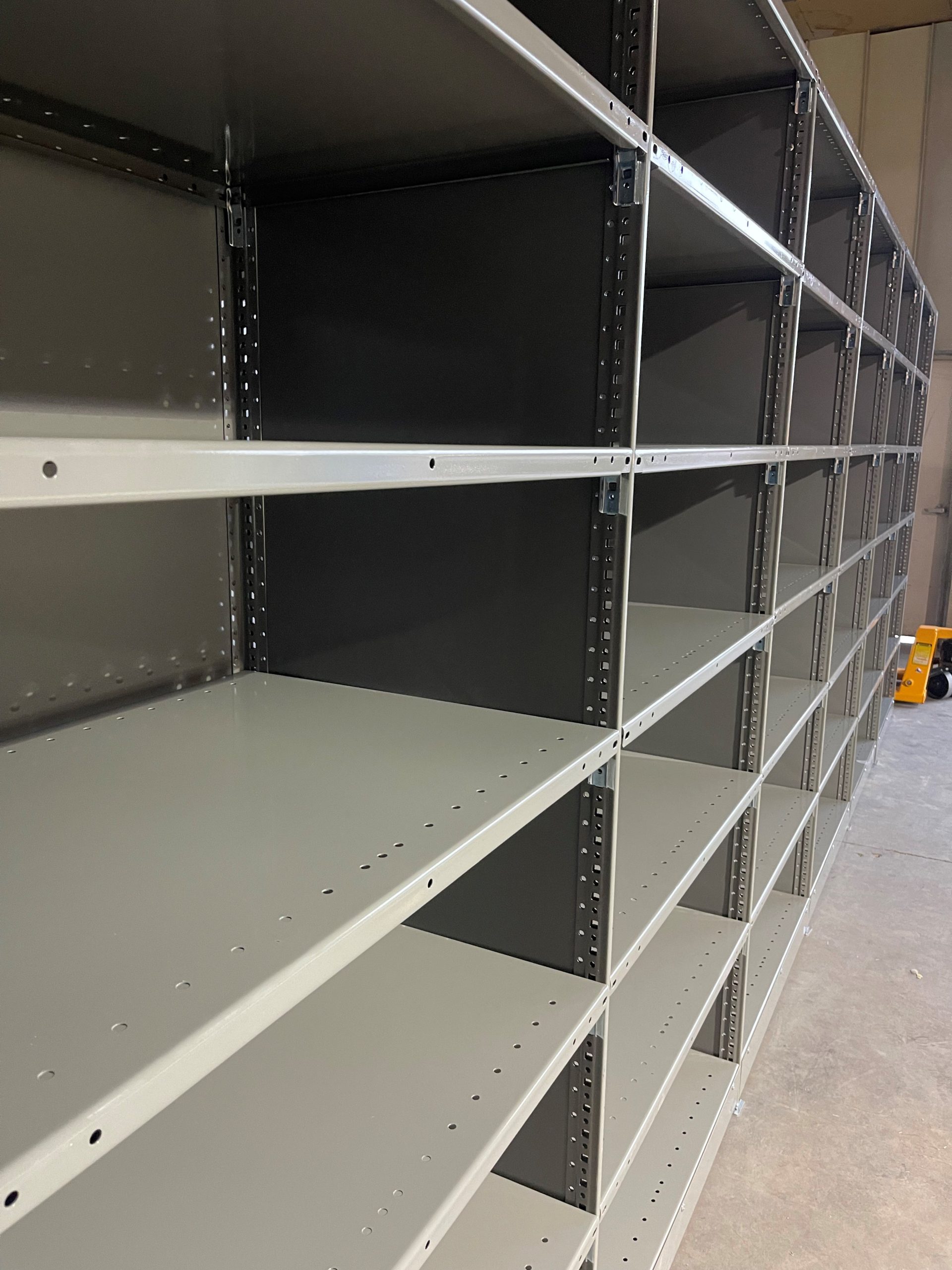 Improved Organization Say goodbye to cluttered spaces and wasted time searching for items. Our shelving systems provide efficient organization, allowing you to find what you need quickly and easily.
Space Optimization With customizable configurations and accessories such as dividers, bins, and label holders, our shelving units maximize storage potential and make the most of available space.
Durability and Reliability Whether you choose RivetRite, Bolted, or Boltless Shelving, rest assured that our units are built to last. They offer unparalleled strength, ensuring your stored items remain secure.
Versatility Our shelving solutions are designed to adapt to your evolving needs. Whether you're in a warehouse or office environment, our units can be tailored to meet your specific requirements.
Transform Your Storage Today: Upgrade your storage capabilities and transform your warehouse or office with our reliable and versatile shelving solutions. Our team of experts is ready to assist you in finding the perfect shelving system that suits your needs. Experience the difference in efficiency, organization, and productivity with RivetRite, Bolted, and Boltless Shelving units.
---
Contact us
now to explore the possibilities and revolutionize your storage space. Your journey towards a more streamlined and optimized workspace starts

here!
---